Lisa Galbraith Heyl is a certified teacher of the Alexander Technique and a teaching member of the American Society of the Alexander Technique (AmSAT). Lisa graduated from the three-year teacher training at the San Francisco Alexander Training Institute in 1988 and has been teaching for over thirty-three years in California, Alabama, Florida, and Minnesota. She teaches private and group classes and workshops.
She has a background in movement arts and choreography; dance and musical performance; competitive sports; teaching at community educations, fitness centers, and corporations. Doctors, chiropractors, and physical therapists have referred their patients to Lisa to help with neuromuscularskeletal re-education.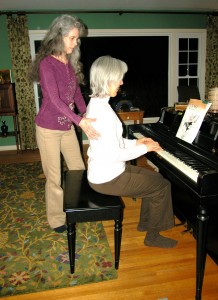 She enjoys working with performing artists, equestrians, athletes, and individuals who want to enhance the quality of performance and comfort in all aspects of their lives. Lisa's style of teaching helps each individual explore and discover their kinesthetic integrity with a lightness, ease, and grace of mind and body. Changing kinesthetic habits of a lifetime can be highly rewarding, liberating, creative and engaging, offering new choices and opportunities.

Listen to an 8 1/2 minute interview with Lisa on the Alexander Technique:
The photograph of Lisa teaching the Alexander Technique at the piano is by Dale Antonson.
Photograph of Lisa by Kristy Walker.